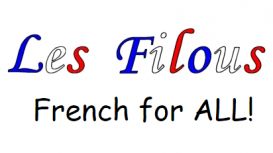 My name is Joanne. I am a French national and have lived in England for 14 years (Norwich, Bedford, London and Cambridge). My family (husband and 2 children) fell in love with Cambridge and we have decided to come back and settle here last year. I have successfully taught French to children (from 2 years old) and adults for the past 5 years.
Travelling is getting increasingly easier. When travelling to France, being able to communicate and some knowledge of the French culture and tradition are extremely appreciated by the locals. Speaking more than one language is also a tremendous asset in the work place. I am very passionate about my mother tongue and would like to share my passion with you.
---
Services

I am confident, I have tailored sessions/services to suit everybody and fit with your requirements:
- Les Petits Filous (pre-school):
For parents wanting their children to learn french effortlessly.
For nursery or pre-school leaders who would like to offer that extra-service to their customers.
- Les Filous (school age):
For parents wanting their children to learn or practise French.
For schools interested in running clubs at their premises.
If you are preparing your GSCE or A-level French, I can help you practise, revise and get a good mark.
- Les Grands (adults):
If you would like to brush up that rusty school French, learn or practise.
If there is a group of you willing to chat in French about a topic, a book, a film, French culture and traditions, I can set up a conversation group to help you with spoken French.
If you are relocating to a French speaking country, I can help you with the paperwork, translation of documents, teach you the language, so you are ready for the move.
- Business:
For businesses dealing with French speaking customers. I can run classes at your premises specifically tailored to your needs.
If you need an interpreter (meeting, phone call, video conferencing), a translator (document, letter, fax, e-mail) please contact.
Reviews and Ratings
We do not have any reviews about Les Filous available right now.